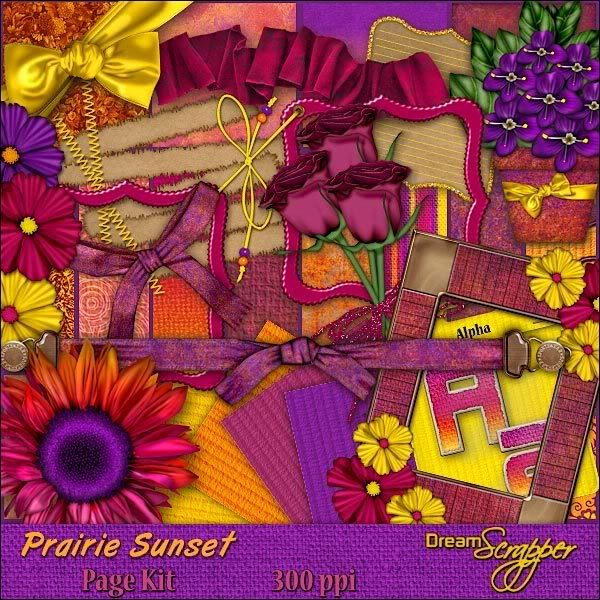 Not everyone gets to see a sunrise but I'm sure everyone has seen a sunset. On the prairies, the sunsets are spectacular! I have tried to recreate this feeling in my latest kit, Prairie Sunset.This kit is on sale now but only until Wednesday - don't miss it!

"Prairie Sunset," by DreamScrapper, is a glorious kit, brimming with a bevy of luscious papers and elements. Eight richly patterned and textured papers are included in shades of gold, tangerine, crimson and amethyst. A BONUS set of 4 textured solids is also included. Papers are created at 12" by 12" at 300ppi and saved as high-quality jpg files ensuring excellent print quality. Contained in "Prairie Sunset" you will find a flower-embellished brass frame with unique, pleated inserts, two bracket frames joined with a beaded cord, a potted plant trimmed with a bow, three roses tied up with a glittery cord, a folded ribbon, a buckled ribbon complete with separate buttons, a satin ribbon with matching bow, a textured bow, a set of journal strips that you can anchor to the page with zigzag stitching that has been provided in four different shades, four glitter-trimmed journal mattes in four different shades, three flowers in three different shades, and a delightfully shaded sunflower. Some elements come in both shadowed and unshadowed versions. Completing this page kit is a textured chipboard alpha, reminiscent of a prairie sunset. Alpha has a complete upper set, numerals 0 to 9, as well as 10 other punctuation marks. Alpha is provided as individual letters so you may open only those that you need. If preferred, a single alpha sheet can be provided upon request. All elements are created at 300ppi and saved as png files to preserve transparency. Drop shadows are applied only where layering of pieces makes shadowing necessary for realism. Special thanks to Atomic Cupcake. Thank you to Tandika Star and DigiScrapDesigner for items used in the creation of this product.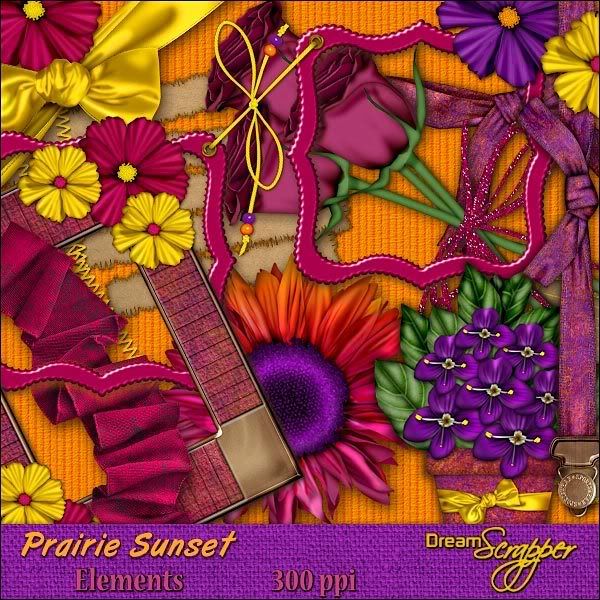 I also have a sweet little freebie for you that coordinates beautifully with this kit. Click on the image below to download.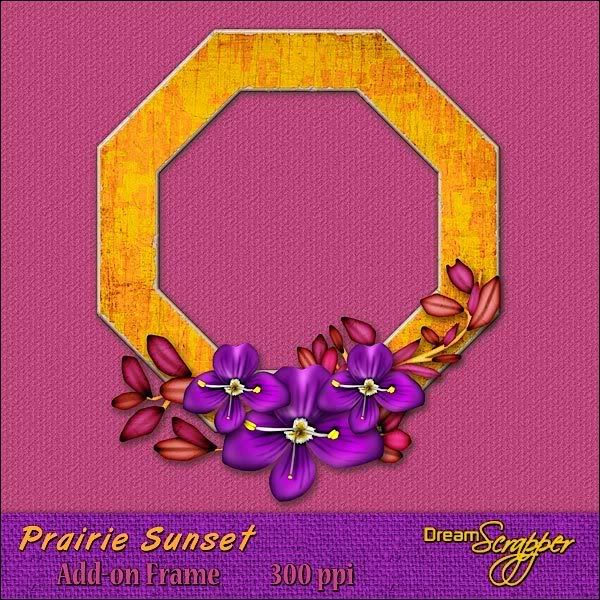 Link has expired.
I would love to hear your reaction to this kit. Leave me a comment below!